CONTACT FOR MORE INFORMATION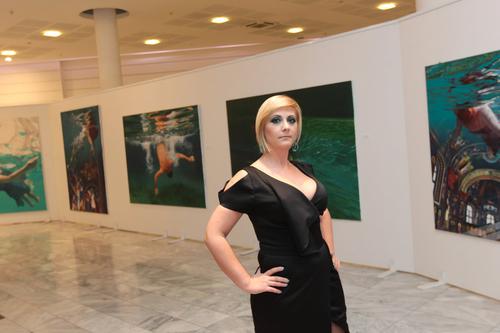 Ivana Živić is a Serbian-Boznian artist born in Sarajevo in 1979.
In 2004 she graduated from the Faculty of Fine Arts of the University of Belgrade, where she also completed her postgraduate studies in 2008.
She has participated in over 20 solo and more than 50 collective exhibitions in Europe and Asia, where he has won numerous awards and accolades, and in several artist residencies, among which stands out the one at the ArtHub Abu Dhabi, UAE, in 2018.
She has taken part in numerous international art fairs throughout Europe.
Ivana has a strong fascination with the world of water and, indeed, her favorite subjects are human figures, especially female, immersed in rooms of sumptuous palaces, often decadent, completely filled with water.
The reaction of the observer is a strong emotion of identification with the represented scene, also suggested by the facial mimicry of the characters represented. In her paintings there is also a long study on the movement of bodies and clothing inside the water, which turns out to be very natural.
The final outcome is bodies floating in the water with a complete sense of freedom of movement.