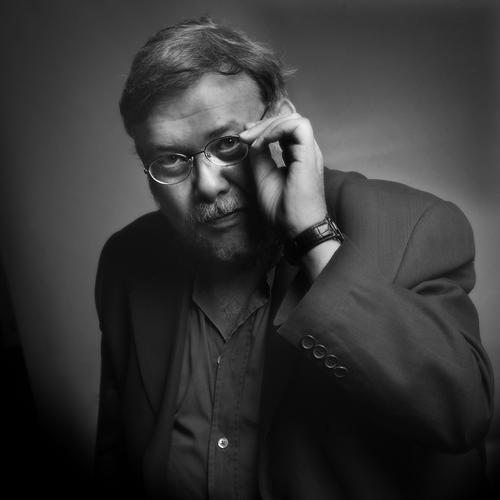 Born in 1959, Tobia Ravà is an Italian artist of Jewish culture, who today lives and works in Venice. He attended the International School of Graphics in Venice and Urbino and got a degree in Semiology of the Arts at the University of Bologna, where he studied with Umberto Eco, among others.
He has exhibited his works since 1977 in Italy and abroad, in well-known galleries and museums such as the Olympic Fine Arts in Beijing, the Galerie Am Park in Frankfurt, the Ermanno Tedeschi Gallery in Tel Aviv, Rome, and Milan, the National Museum of Fine Arts in Buenos Aires, the HUC-JIR Museum of New York and the Venice Biennale. He is also present in important private and public collections in Europe, United States, South America and Far East.
Tobias' work relies on a wise study of ghematria, the theological science that describes how the Hebrew language assigns numbers to letters. The fact that each word corresponds to a number, the result of an arithmetic sum, reveals how words or sentences with the same numerical value are connected in meaning. The key of his work is the semantic correspondence between the represented image and numbers. Tobia Ravà has therefore created an artistic genre that is defined 'aesthetic conceptualism': "to the tight logic of the ghematric paths and the different levels of interpretation of the work, he adds the captivating aspect of shapes and colors". M.L.Trevisan
The artist loves to represent imaginary or existing landscapes, natural places or urban environments, human and animal figures, cosmic visions or abstract ones. Only after he can visualize the image, the artist fills it with symbolic letters and numbers, creating a real genetic code of the work that defines the subjects both formally and conceptually. According to the Lurian Kabbalah, to which Tobia Ravà refers, the artist's aim is to reveal the light, illuminate the eyes and soul of the viewer.
Looking at the masterpieces of Tobia Ravà, each one of us is led by beautiful images to reflect on certain values: from the conservation of the environment to the history of knowledge, from the mystical atmosphere of places to the infinite space of the universe.
"to the tight logic of the ghematric paths and the different levels of interpretation of the work, he adds the captivating aspect of shapes and colors". M.L.Trevisan